When I was juggling cooking supper and keeping the children happy/fed/entertained (and failing) one afternoon last week, I glanced out across the bay and saw the drift of a whale spout drifting in the wind. That is a first for me in this house.
This is supposed to be a very good year for observing whales (mainly minkes so far). When the boys and I went to
Cape Spear
the week before last with our company (and Iain and I stayed in the van and I knit while he slept), our friends came back thrilled with the fact that they were watching minkes from the Cape. During a hike along the trail in front of our place (a hike which is quickly becoming a favourite for all of us especially Iain who can be heard crying 'Let's go for a hike!' on a regular basis) the following weekend, we saw many, MANY pods of whales spouting and dancing in the waves. The
food fishery
started last weekend so there were also a lot more boats out compared to usual too. Both were a fine sight.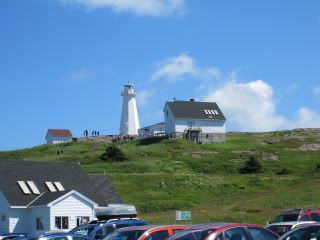 July 18th has come and gone and still, I knit on. Progress is being made though. It took me all of last week to get over a very bad case of second sleeve syndrome but I have managed to break through that barrier.
The only thing that would have made this spot any more perfect for knitting than it already was would have been a rocking chair!
I am certain that a lot of knitting happened at this very same site when the lighthouse keeper and his family were in residence (heck, at least one of the lighthouse keepers and his wife had eleven children so I can rest assured that there were, at the very least, a lot of socks knit on this very same spot!). However, I am almost equally certain that I was one of the few adding to the location's knitting heritage this day.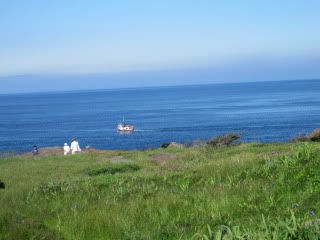 Have you knit anywhere interesting yet this summer?