The basement workers are on hiatus while we have guests this week this week. DH and I (and our builder) felt that the dust, hammering, paint drying smells, etc might put me completely around the bend while trying to be a calm and considerate host. A construction break seemed worthwhile (the space couldn't have been finished before our guests arrived regardless). Our builder was also considerate enough to hope that we could use the space as is (with a little bit of damp mopping). We aren't though. We are using the camper and the campervan. Our guests are, three out of five, Newfoundland and Labradorians (one is 50%, born in the UK and the other is 100% British stock, now Canadian). They haven't complained yet – much – because camping in a gravel pit is a rite of passage, isn't it? I think the British stock boy is having some back trouble as a result of van sleeping but I believe such troubles may have come about before sleeping in our van. I think...
Here is where we're at and, after watching things go so quickly, it now seems like the same old, same old down there now. The green will be slightly toned down upon completion.
Two weeks ago, the following conversation was also heard in our basement:
"Do you want to think about glass doors on the upper cabinets so that you can show off your yarn? I know you like to (probably in reference to the basket of brightly coloured skeins that graces our stairwell)?" DH asked.
"Oooohh." I managed to get out and then very, very quickly agreed. Sorry, you can't have him.
The stairwell - reworked due to putting french pocket doors between the already finished family room and the new space:
The new doors before priming:
The new office space: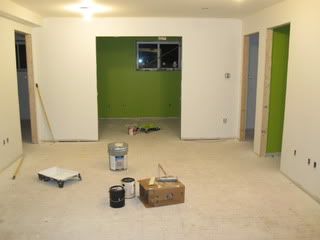 Looking back across the office space towards the bathroom and wine closet:
Looking back towards the storage room, from the craft room: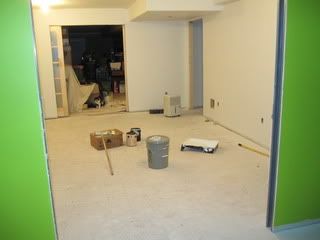 Bathroom:
Guset room one: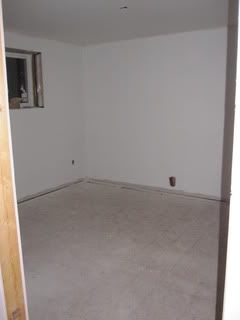 Guest room two:
Storage room:
Wine closet: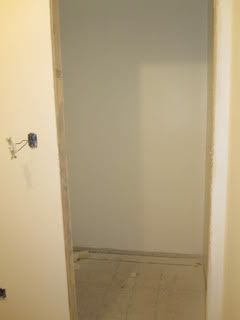 Our builder is hoping to be finished around mid-August. Fingers crossed!