Note: I have been having technical difficulties downloading pictures to my blog due to Blogger using Picassa albums. It has taken me a week to figure this out and switch my pictures over to photobucket. It seems I am also a slow learner so that process is taking me awhile. Bear with me, please!).
The day of Iain and Aidan's party dawned bright and beautiful and the heat only intensified throughout the day. It turned out to be one of our hottest days of the summer up to that time.
DH wanted something extra special for their party so we rented a bouncy slide.
Iain, Aidan and their guests had a hoot (that's Iain coming down backwards and headfirst on the slide)! It was a great idea on DH's part as I figured that the kids could just have fun playing with the plethora of toys that we have here. However, it turned into a great combination to have everyone inside playing in the cool and then running outside into the heat to run and bounce around.
Here is what a one year old does with birthday cake.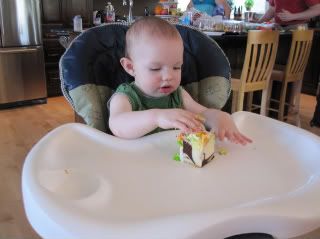 I think he enjoyed it ;)!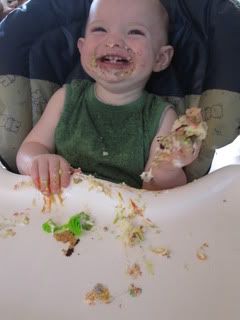 Iain is learning how to lick the icing off the bottom of birthday candles.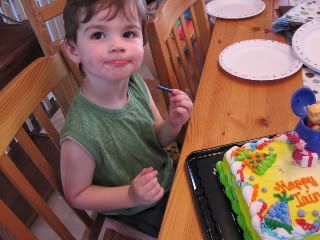 I didn't make the boys their birthday cake this year and, I have to admit, that decision caused me no end of guilt and a few tears. When I was pregnant with Iain, I took two levels of
Wilton's
cake decorating courses so that I could decorate my children's cakes. However, time and the lack of a chest freezer (it is moved due to the basement renovations) worked against me and I simply ran out of time. Considering how difficult it was for me to go out and buy a cake this year, I know that I need to have the cake(s) organised first for future years as it seems to be very important to me even if the boys didn't seem to mind one way or the other. Ah, parental guilt!
These gorgeous 'vintage' decorations used to grace DH and his sister's birthday cakes when they were children. There are little holes in each figure into which you place a birthday candle. The set is very fragile so I relegated it to a display instead of using it for the party.
Gorgeous.
It was a really, really fun day and the last set of parents and children left late in the day which, to me, indicates that a fun time was had by all. Yeah!