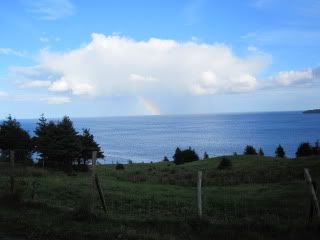 I know, I know. It has really been ages. I have missed you. Truly. I have been busy, much like you I suppose. I would imagine that you are better organised than I as many of you manage to write blog posts a little more often than, say, once every two months. As usual, I bow to your superior ability to be able to live life in a balanced way. It is a goal I strive towards.
One thing I have noticed is that the amount of blog posts I manage to write is almost directly proportionate to the amount of knitting I am doing. I believe this to be because when I have time to knit, I usually have time to be introspective. When I find no time to knit, I usually find myself with a catcher's mitt, catching whatever life is hurling at me at any given moment. Not so much introspective because that would mean a ball in the face.
To show that we are doing well and that we have not quite dropped out of the world of technology, here is some proof taken on part of the East Coast trail close to our house just yesterday (Thanksgiving Monday to us Canadians. Happy belated Thanksgiving! We had a hoot; did you?!?).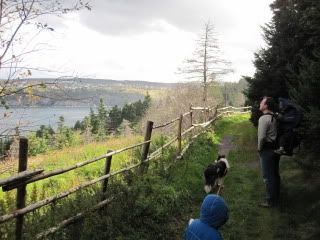 This was our goal - beautiful Torbay!